The trenches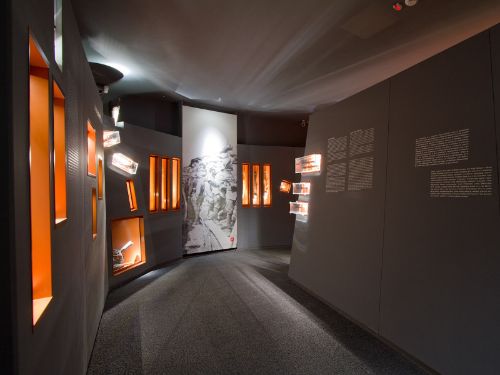 The ground floor of the Museo della Battaglia focuses on life in the trenches, the most unique aspect of the soldiers' experience during the conflict.
A winding path, consisting of a streamlined reproduction of the design of the trenches, leads visitors to discover how soldiers spent some very long moments of their lives in these narrow spaces. An emotional and immersive path conveys the powerful sensations experienced by the soldiers following an emotional crescendo, from specific warfare and military issues to the individuals, their free time and personal connections with their loved ones.
Personal objects, letters, books, films, as well as smell, sound and visual effects offer visitors an in-depth perspective of a largely unknown reality. The material side of the soldiers' lives takes centre stage, while their living conditions are examined through the use of daily objects and explanatory boards.
From the caltrop, a lethal obstacle that was placed in enemy trenches, chosen as the symbol of the Museo della Battaglia, to the artistic and literary production that flourished in this parallel universe. Altogether, they create an itinerary by means of photographs, emotions, sounds, objects and texts, which does not only relate to military life but also looks into the most peculiar aspect of the First World War.