The Museum complex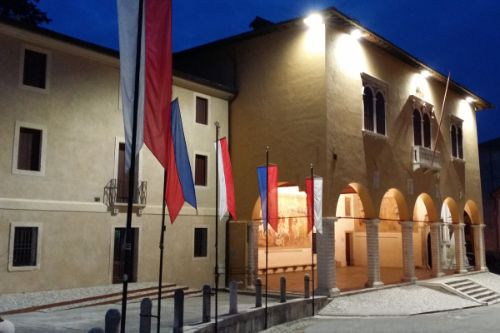 The Museum complex consists of three adjoining buildings of which the main part is made up of the Community of Ceneda Palace. The fine building, constructed to accommodate the municipality headquarters, was built between 1536 and 1537 during the era of Bishop Giovanni Grimani, following a master plan that, according to an undocumented tradition, should be attributed to Jacopo Tatti also known as Sansovino (Florence, 1486 -Venice, 1570).
When the city of Vittorio Veneto was founded from the merging of the Ceneda and Serravalle communities in 1866, the building lost its civic use, later regained in 1938 when it was used to accommodate the Museo della Battaglia [Museum of the Battle] of Vittorio Veneto.
The exhibition rooms are arranged over the three floors of the building and are connected by a majestic staircase. The ornamental designs that adorn the old town hall in the Loggia outside and in the hall, used for Ceneda council meetings and called Civic Hall, are of substantial value.
On the ground floor, next to the main building is the small, now deconsecrated, Baroque church of S. Paolo al Piano, known as "San Paoletto". It was originally the church of the neighbouring cemetery, which moved to the new one in 1847. Home to the "Scuola della Buona morte" [School of the Good Death], which dealt with funeral etiquette and burial of the dead, it later became the home of the Confraternities of "San Filippo Neri" and the "Madonna del Carmine". The building is a simple church, with the choir, baptistery and altar still intact. This space is dedicated to accommodating the on-site multimedia laboratory within the Museum.