The building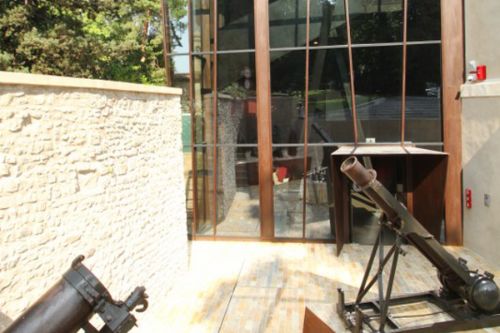 In 2012, the old sixteenth-century complex underwent a complete renovation that involved preservation, restoration and structural consolidation, functional recovery and plants replacement. The layout has also undergone a radical transformation, whilst maintaining its own ancient history within one section.
In order to maximise the space available, a decision was made to build a new avant-corps in the top north-western part of the complex, allowing for a double vertical distribution system and the creation of a new space for a reception area and foyer-ticket office. The search for an architectural look that is more appropriate and fitting to the target audience and destination has led to the use of glass and raw metal, therefore in contrast to the monumental nature of the old building. Indeed, a contemporary look is appropriate to both the exhibition content and the new role of the Museum as a cultural development of the area.
The Open Gallery and Civic Hall are no longer used for the Museum's activities, and have consequently been returned to their original public use as places of community remembrance. The Civic Hall in particular has been removed from all museum activities and prepared for meetings, gatherings and small conferences, which are excluded from the route of the museum tour.
The Museum's on-site multimedia laboratory, situated in the S. Paolo al Piano Chapel, is tightly incorporated within the route of the museum tour, but if required, it is equipped with its very own managerial autonomy. The space in the nave, characterised by its greatest flexibility of use, is also used for small temporary exhibitions, gatherings and concerts.